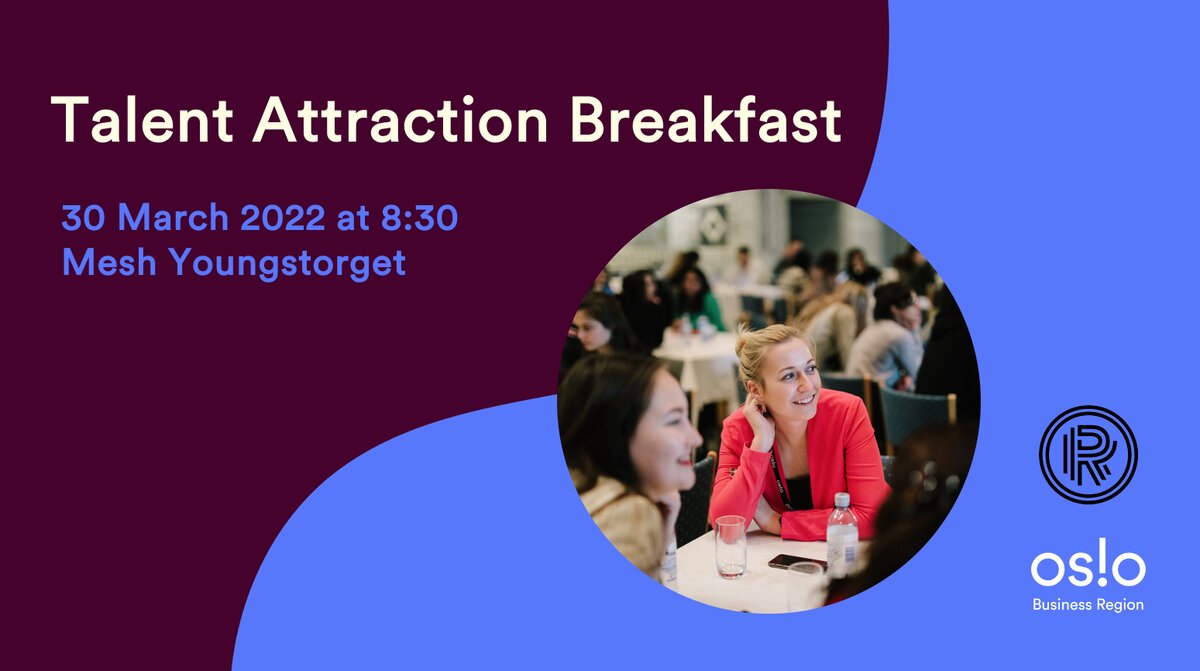 Talent Attraction Breakfast

Access to talent is essential for companies in the Oslo region, and the competition between companies, cities, and regions is increasing across the world. How is Norway staying competitive for the attraction of talent and are we as welcoming as we should be?
You are invited to the "Talent Attraction Breakfast - The good and the bad for talent relocation to Oslo", hosted by the Oslo Region Alliance and Oslo Business Region, where we will spotlight the bureaucratic, political, and practical challenges related to international talent attraction and retention. The event will be streamed in case you can't attend (registration in the same link).

Program:
8:00 Breakfast, registration and mingle
8:30 Welcome
8:40 Introduction "How do we improve collaboration and work together toward a more user-centric approach welcoming talents, students, and specialists to Norway?"
8:50 Keynotes "What does Norway's attractiveness abroad have to do with talent attraction?", by Finn Kristian Aamodt (Innovasjon Norge/Invest in Norway)
8:55 Panel 1 "The challenges companies and employees are facing when relocating to Norway", with Sean Percival (Iterate Norway), Aida Sopa (Neptune Software), Pavel Sindlar (Oslo Expat Center), Raja Skogland (The Visionary Company)
09:15 Panel 2 "What are some real changes that can be done to improve the situation for internationals moving to Norway, and where does it start?", with Venstre, SV, Abelia, Skatteetaten, Oslo Business Region and Finans Norge, moderated by IKT-Norge.
9:55 Coffee break
10:10 Panel 3 "What do Internationals look for when moving to another country and what is important for a good relocation process?", with Kongsberg International School, Søndre Viken IPR and the City of Halden, the City of Oslo, Relocate2Norway and Skillhus
11:00 End of event and start of networking