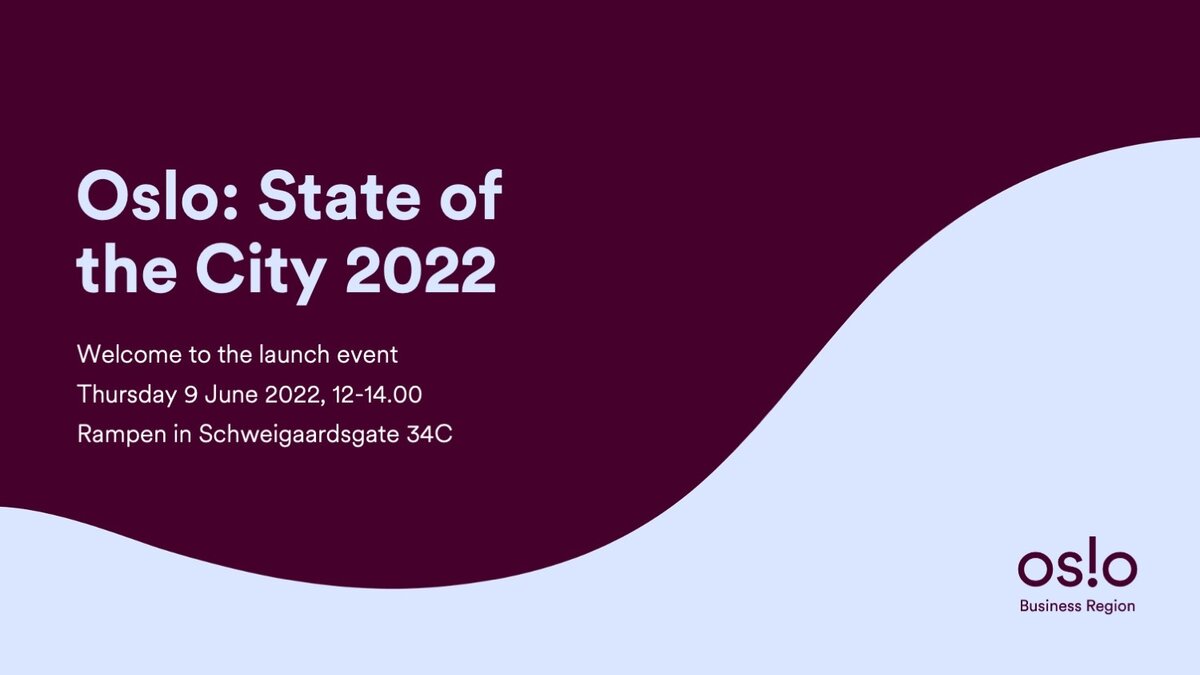 Launch of Oslo: State of the City 2022
Welcome to the launch of the annual report Oslo: State of the City 2022, Thursday 9 June 12-14 at Rampen. The comprehensive outside-in review of Oslo is based on 750 global benchmarks and indexes. It examines how Oslo is progressing in areas like business, city development, livability, and the visitor economy, and the region's opportunities on the global stage.
The report looks at five areas: Opportunity, Innovation, People, Place and Preparedness. And this year, we deepdive into two special chapters: one on Oslo's culture scene and visitor economy and one on Oslo's innovation ecosystem. The report is made by The Business of Cities (UK).
Last year, Oslo climbed from 48th place to 33rd on the global visibility scale. As the region continues to diversify, it is more often recognised as a leader globally in sectors ranging from EVs and green finance, to software engineering and disruptive technologies, and from cleantech to fintech. On the other hand we are lagging behind on commercializing research, and we need to scale more startups globally. Join us to find out where we are today.
At the event, you'll hear the highlights of the report in addition to a panel of experts discussing key findings and further implications for Oslo.
Hope to see you there!

Program
11.30 - Registration and coffee
12.00 - Welcome by Victoria Marie Evensen, Vice Mayor for Business and Ownership - City of Oslo
12.10 - Keynote presentation of the key findings from this year's Oslo: State of the City report by Prof. Tim Moonen - Co-Founder and Managing Director of The Business of Cities
12.40 - Q&A
12.50 - Break
13.00 - Panel discussion: Championing the future
Dr. Tim Moonen, Co-Founder and Managing Director of The Business of Cities
Dr. Murshid M. Ali - Serial entrepreneur and investor
Bente Holm, former Director of VisitNorway
Charlotte Dos Santos - Singer, songwriter and producer
13.45 - Launch of a new international place branding network initiated by Oslo Region Alliance, VisitOslo and Oslo Business Region
13.55 - Closing remarks
Moderator of the day is Siw Andersen, CEO of Oslo Business Region.
Why does the report matter?
To keep in mind the big picture and the long-term journey
To figure out what the post pandemic city needs to offer to be attractive and competitive
To see where Oslo stands out from the crowd, and if it is changing.
To reveal the depth of European and global competition
To see if the brand is catching up with the product
To spot new drivers of perceptions among talent and companies and citizens
About Oslo: State of the City


The benchmark is systematically put together by The Business of Cities, which is a London based urban intelligence firm, and lead from Dr. Tim Moonen (Managing Director), Jake Hunley (Head of Research) and Maria Lawrence (Associate).
It is now six years since the Oslo region launched its brand strategy and Oslo State of the City is how we measure how we are doing.
The report is owned by Oslo Business Region.
The special chapter is made by support from the Oslo Region Alliance.