Oslo database: Match your startup with global investors
As a startup or investor in Oslo you can sign up to Dealroom for free and be visible for both the Oslo ecosystem and the global platform. This database is a great tool for visibility and to discover new startups and investors. In addition to insights, did you know that the platform also provides a matching tool between startups and investors?
Let's take an Oslo-based startup as an example: Ludenso is an edtech startup founded in 2018, on a mission to empower every educator and learner with AR (Augmented Reality). Ludenso has grown to a team of 5 full-time and 4 part-time employees with a passion for inclusive education and technology. The team has global ambitions, and is backed by the founders of Kahoot! (Johan Brand and Jamie Brooker). Today, Ludenso is bringing the science and anatomy books from Aschehoug publishing house to life with AR enrichments, and they are working to make an impact in classrooms internationally through pilots with publishers from the US, the UK, and EU.
" Dealroom is a great database to be updated and get insight on the startups in Oslo Region and also for companies to be visible for global investors "
Explore the matching tool
After you are signed up to the platform and created a profile for your company - it's free and it takes only 2 minutes - go to the main "menu" on the left side to find different kinds of categories to look into. Scroll down and click on the "matching tool". If you are a company, you can match your startup with global investors, if you are an investor, you can do research on companies that you are interested in or even find out new ones. It's simple:

1. Write in the company name in the "search" field on top
2. Use the filter options to fit the search with yours needs
3. Push the button "find investor matches"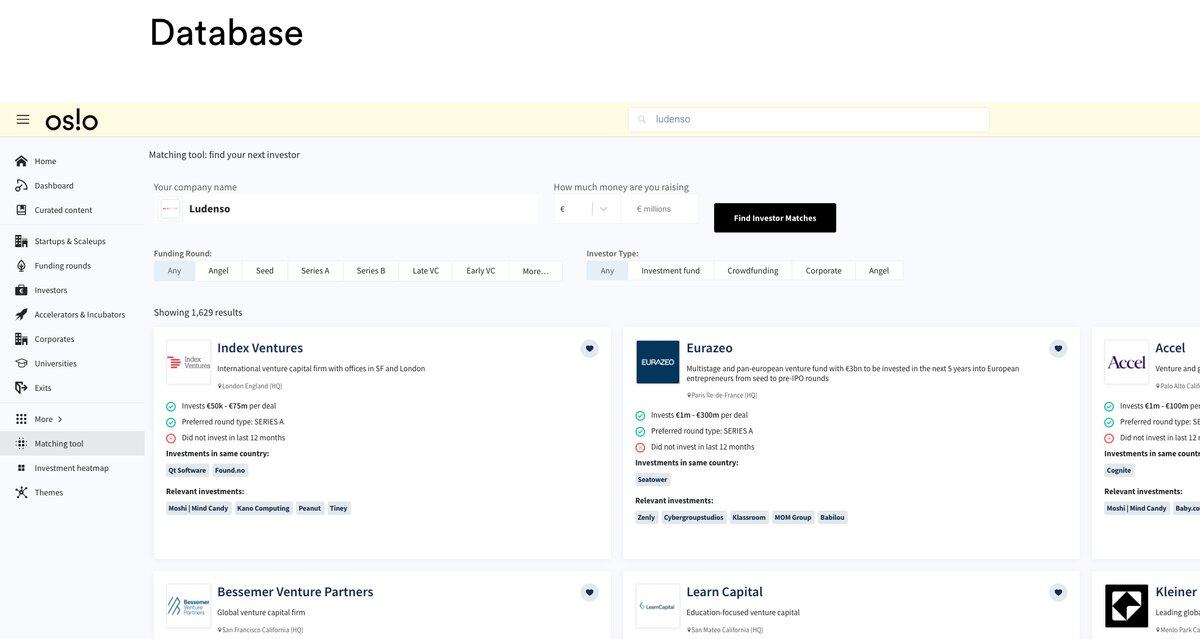 Oslo startup database
Oslo startup database was launched in October 2021 by Oslo Business Region in partnership with Dealroom. The platform provides unique insight on the state of the Oslo startup community and just in a few months we have reached 1400 startups on the platform!

Contact:
Tonje Ørnholt

Head of Investment