Six unicorns and counting: meet the Norwegian tech stars
Blame the Olympic spirit. We are feeling very proud of our team of 6 unicorns and the booming Norwegian startup ecosystem. Just in the last couple of years (aka in the midst of a world pandemic), 4 of the 6 Norwegian startups became unicorns—the biggest startups with a valuation above $1 billion.
Last week, we followed the (amazing) headlines announcing the newest Norwegian unicorn Dune Analytics, one of the leaders when it comes to data literacy across the crypto market. According to co-founder and CEO, Fredrik Haga latest interview, Dune "supports the next generation of analysts who will neither wear suits nor work for investment banks. These pioneers will have quirky animals as profile pictures and collaborate openly across the world. Being a Dune Wizard will be both more fun and profitable than being a Wall Street analyst".
In August, Norway-based on-demand print platform Gelato has raised $240 million, pushing its valuation up to $1.05 billion. The funding round was led by global private equity and VC firm Insight Partners, with SoftBank Vision Fund 2 and existing investor Dawn Capital participating, among others. Fun fact: Gelato won the Oslo Innovation Week Award back in 2015. 👀
In June 2021, the industrial software SaaS startup Cognite has becomes unicorn as funding round raises the company's valuation to $1.6 billion. Cognite has raised $150 million in an equity fundraising round led by TCV. TCV has a broad network and expertise in successfully scaling technology companies, including Netflix, Airbnb and Spotify. Founded in 2016, Cognite's main product is a DataOps and contextualization framework that enables the development of at-scale applications and services by putting raw data into context.
Same month (and same day), online grocery startup Oda has joined the group: Oda announced a secondary transaction, on the back of its $ 265 million Softbank/Prosus-led round in April. This secondary transaction values the company at $ 1.2 billion, up by $ 0.3 billion in just two months.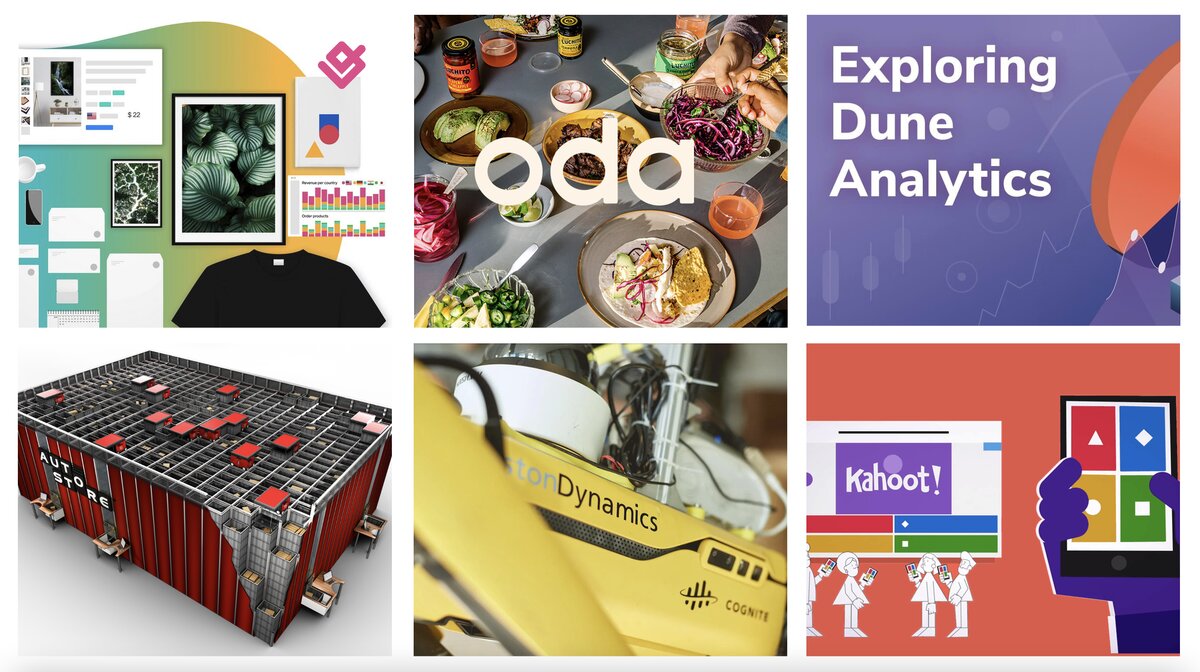 The three pioneers

In June 2020, ed-tech Kahoot! has become a unicorn worth more than $1 billion after raising $28 million of funding. Kahoot! CEO Eilert Hanoa and Northzone Ventures, one of its big backers, both participated in the investment round, which is meant to bolster the expansion of its game-based learning platform from global organisations to educational institutions and families at home. At that time, the company had 19 million active accounts and 260,000 paid subscriptions, including teachers and professionals.
One year earlier (June looks like a lucky month for unicorns), tech startup Autostore has qualified as Norway's first unicorn, and is sold for a value of $1.88 billion to the American fund THL Partners. Founded in 1996, AutoStore designs and engineers patented high-speed robots, highly modular and flexible cube storage grid systems, and proprietary controls software that enable its customers to achieve nearly four times the inventory storage relative to manual alternatives, with enhanced inventory picking speed and accuracy.

Who
Kahoot!: edtech startup
AutoStore: automated storage & retrieval system
Cognite: industrial software company

Oda: online grocery startup
Gelato: on-demand print platform
Dune Analytics: crypto analytics platform

Who's next? In the Oslo region alone, 2,200 startups and almost 200 scaleups have emerged from the ecosystem. Explore our Oslo database and the Invest in Oslo special feature to follow the newest funding rounds.