How growth companies in Oslo and their international employees are navigating the worldwide talent crunch
What drives Oslo-based growth companies to recruit and hire from abroad rather than from within Norway, and how do new international hires experience relocating to Oslo?
New data on Norwegian growth companies' needs
A new report from Oslo Business Region examines data from growth companies and their international employees to see how they are navigating the worldwide talent crunch. It offers recommendations to startups and scaleups on how they can band together to help ensure a sustainable future for Oslo.
Many Oslo-based growth companies lack access to the skillsets they need to scale and expand their businesses, usually because there is a shortage of qualified candidates in Norway or because they require a specific international experience and expertise.
The new report looks at how the need for talent impacts the business landscape in Oslo. It zooms in on international candidates, what support services they need, what they feel is lacking, and how they have settled into Norwegian society.

Norwegian scaleups are hiring despite of turbulent times
Perhaps one of the most surprising outcomes of the report is that all the companies surveyed are planning to hire new staff in 2023 despite turbulent times. They state that there is a lack of job candidates in Oslo with the competence they need. Many are open to expanding their recruitment efforts internationally as long as candidates have the required skills and can do the work. The companies would like to offer more social activities to their employees, but time is a constraint to making such arrangements.

Foreign employees say a good work-life balance is the best attribute about Oslo
Foreign employees at the growth companies say they are happy to live in Oslo, and many attribute this to a good work-life balance. A number of respondents said they would have liked more help with required documentation when they relocated to Oslo, access to more social networks outside of work, and support services for a greater sense of inclusion in Norwegian society.
More collaboration across companies and stakeholders is needed
As most growth companies are too small to establish an extensive package of support services for new hires on their own, several stated that they would like better coordination of services for new hires across companies. The report represents only a sample of companies and international employees. It does not address why candidates choose to relocate to Oslo and why they stay (or why some leave), nor does it map all growth companies and international employees in Oslo.
This report has been prepared by Oslo Business Region AS - the City of Oslo's business development agency. The results of this report was first presented at the Oslo Connect Talent Summit in May. The conference gathered 150 local stakeholders to learn, share and meet.

What Oslo Business Region is doing to tackle the talent gap
We are currently working on new initiatives to support growth companies on attracting and retaining international hires. Our goals are to
support growth companies in Oslo to attract and retain international employees with information and networks
some of the initiatives are aimed at the employees, especially newcomers to Oslo, however the offer and onboarding of the various initiatives will be communicated through the employer
build knowledge, networks and collaborative projects to strengthen Oslo's ability to attract and retain talent
If you're a growth company recruiting internationally (or have been in the last 12 months), please reach out to us via email to hear more about our pilot products. We're also interested in getting in touch with organisations and service providers in this space. Please find our contact info below. If you'd like to receive news about our talent work, please sign up to our newsletter.

Read the full report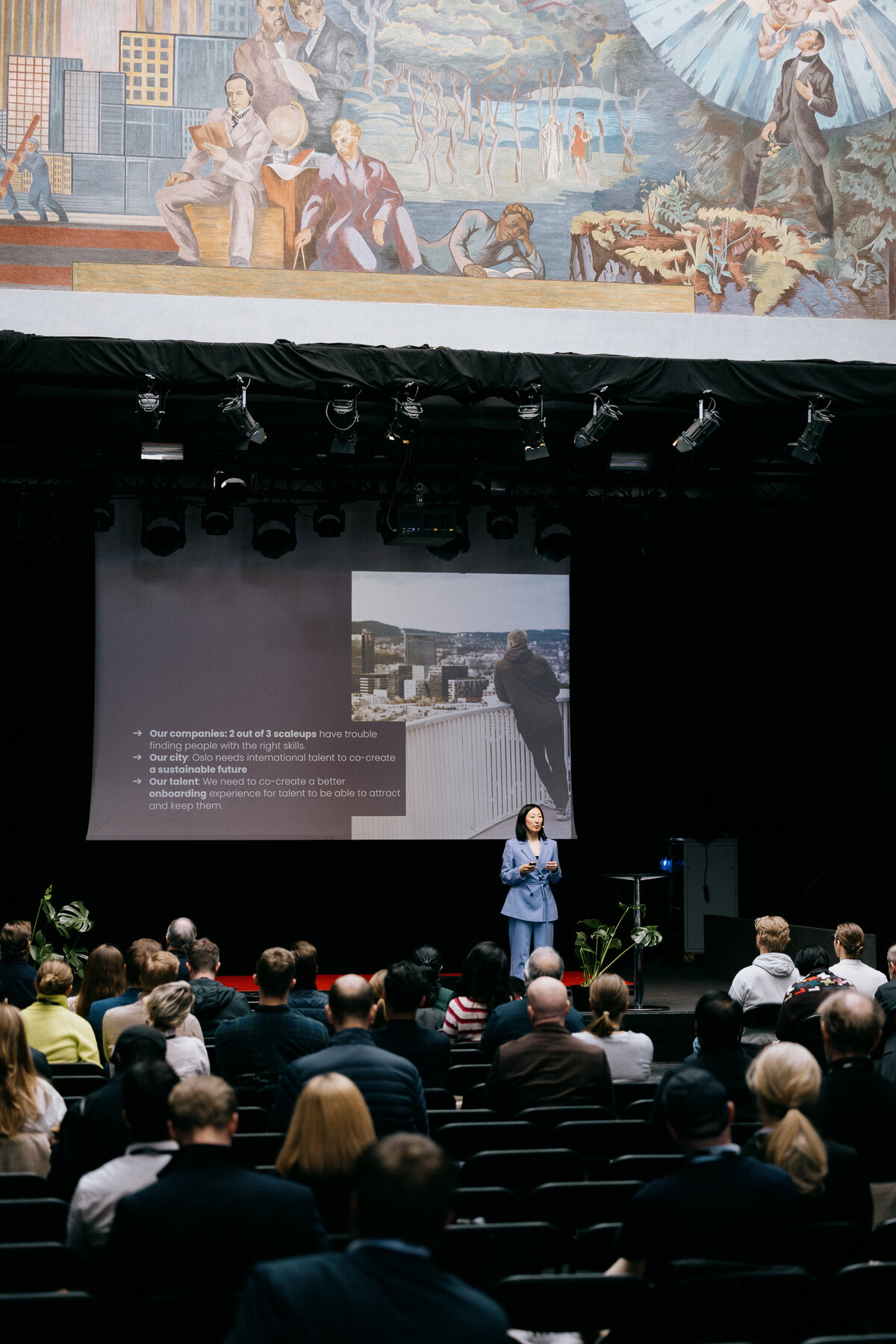 Contact
Andrea Nylund

City Innovation Lead

Martine Mæland

Project Lead