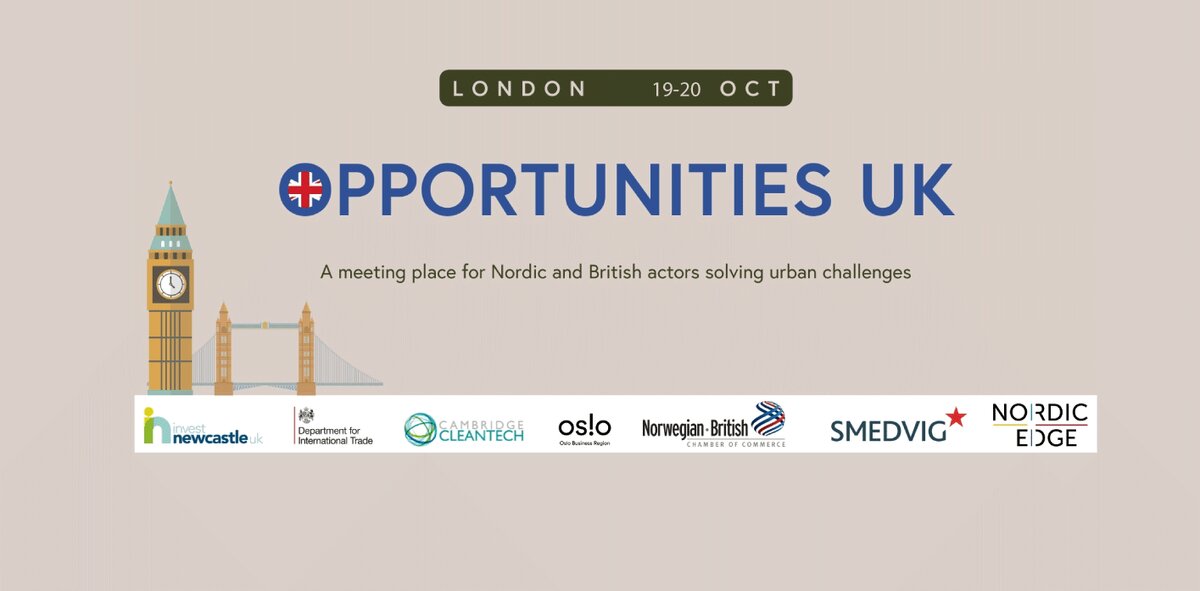 Scaling your business to the UK/Opportunities UK
Venue: London
From: 19 October 2022, 09:00 AM
Until: 20 October 2022, 04:00 PM
Join us in London for a two days program filled with networking, professional input, and expert guidance, all enabling new business opportunities abroad.
We are no longer taking applications but startups can still participate in this event on their own terms.

Info
We are selecting 11 scaleups based in the Oslo region within 'urban development' with the ambition of expanding to the UK. The event Opportunities UK is a meeting place for Nordic and British actors working to solve green urban challenges. The event aims at giving companies the knowledge they need to prepare and succeed with a go-to-market-strategy. Attendees will gain knowledge on how to prepare a good go-to market-strategy and how to pitch it, and get valuable input on market possibilities in the UK.
Who are we looking for?
Must be an Oslo-based company (min 10 people), and within one or more of the following sectors:

Spaces and places – PropTech, architecture & city development
Urban Energy – The use, distribution, and production of energy in urban areas
Mobility – Solutions for blue and green mobility
Communication – Technology for enabling a smart and connected city
Citizen services – technology for education, community & inclusiveness

Oslo Business Region will sponsor the attendance at the conference of 10 scaleups. The deadline for applying was 18th September. We are no longer taking applications. Read more about the day here.