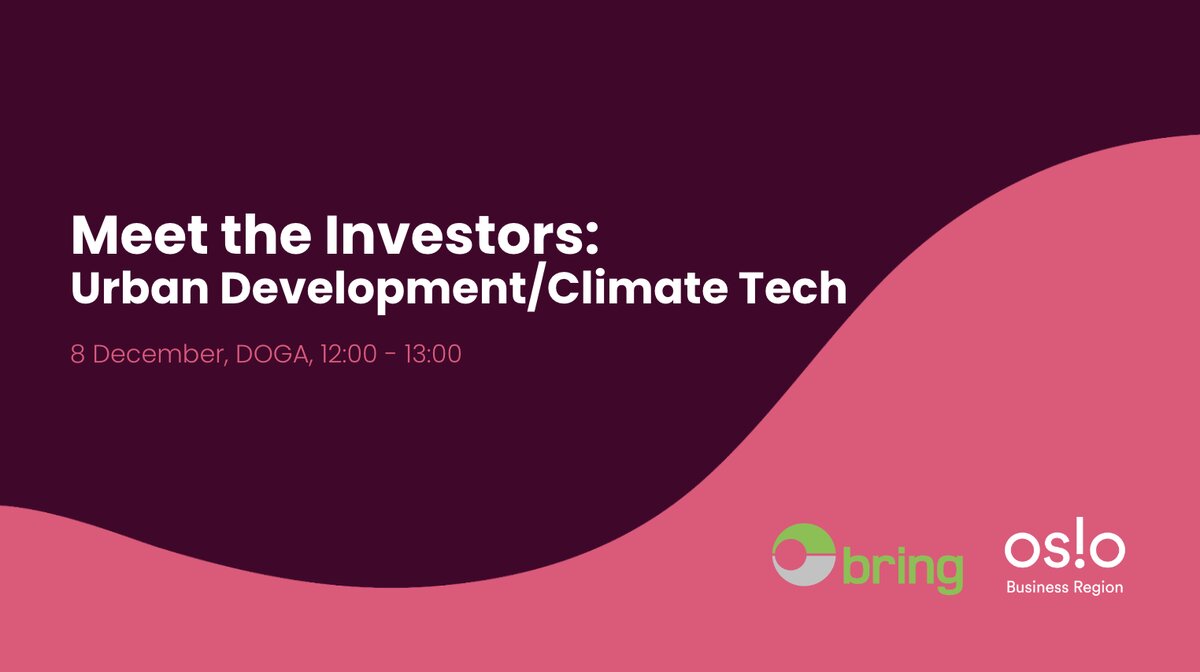 Meet the Investors: Urban Development / Climate Tech
This event is full, and we are no longer accepting applications.
Are you an Oslo based startup in the Urban Development/ Climate Tech field with an ambition for international growth? Join us at Doga on December 8th, 12:00 - 13:00 in Oslo for investor presentations and networking.
The program is very straightforward: Four pitches from investors and a Q&A after. Come and meet international investors from Bring Ventures, Inventure, Luminar Venture, Bonnier Venture and Kompas VC to learn more about what they are looking for and how they work and get the chance to talk to them after the session.
Limited number of seats available. The startups are carefully selected through the application form to fit the investors criterias/interest. We will evaluate requests continuously and get back to you within 3 working days. Absolute deadline for applications is 1 December.
This event is a collaboration with Bring Ventures and Oslo Business Region.

Meet the Investors:
Inventure

Inventure is one of the most experienced Nordic venture funds that specializes in helping its portfolio companies with talent and expansion. Since 2005, the team has been in venture with over 70 companies, including: Wolt, Detectify, Blueprint Genetics, Swappie and Insurello.
They just went public with their €150m and are now looking for their first Norwegian investment opportunity. Previously investing primarily in the seed and series A stage, they have now also opened up for angel-like check sizes, investing €200-500k, enabling us to support founders from an even earlier stage.
Luminar Venture
Luminar Ventures is a $60M Seed stage VC from Sweden.The fund aims to provide experienced seed stage financing and active operational support to Nordic based early stage technology companies that are looking to disrupt or transform major industries with digital technologies and innovations. The fund is looking to lead seed rounds through an average investment of around 10 MSEK, but will also do larger late Seed and smaller pre-seed investments in promising teams.
Kompas VC
Kompas is an early-stage investor in prop tech, construction tech, climate tech, industry 4.0 and enterprise software. Fund I ($160m) targets late Seed and Series A technology companies in Europe, Israel and the US. They are looking for ambitious founders who develop technology to transform buildings into more sustainable and healthy spaces, reduce the environmental impact of the construction and manufacturing industries, and transform the way modern organisations work.
Bonnier Ventures
Bonnier Ventures is the venture arm of the Bonnier Group. As a financially driven corporate venture investor, we make investments in fast growing companies with exceptional teams across multiple growth stages.
Bring ventures
The Venture arm of the Norway Post Group. Dedicated to invest in disruptive and ambitious startup companies.
Bring Ventures strive to be a value-adding investor by building close relationships, exchanging capabilities, expertise, customers, and volumes. Alongside capital investment, they also offer their portfolio companies access to their ecosystem, active board work, conducting pilots together with parts of their organization, or entering a commercial partnership.